VANDER STEENS GIVE THROUGH TRUST, ESTATE PLAN, AND WITH SCHOLARSHIPS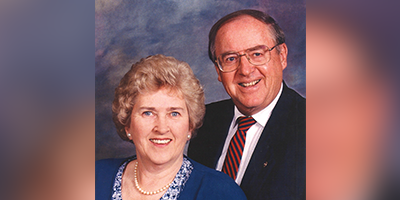 Dirk '64 and Jean '63 Vander Steen were both born in the Netherlands and immigrated to North America with their families as children: Dirk in 1947 to Ontario and Jean in 1952 to Wisconsin. They met at Calvin through their involvement in both the Mission Club and Calvin's Oratorio Choirs. Their first date was the Messiah concert.
The Vander Steens believe that God's providence has been evident throughout their lives in so many ways: from their meeting at Calvin and their many years as missionaries (and Jean as a teacher) in Nigeria to their sending teachers back to Nigeria and continuing to promote biblical stewardship through Dirk's work as director of First Fruits: Managing the Master's Money.
In gratitude, the couple has given back to Calvin with a planned gift through their estate and by creating scholarships. They have also established a charitable remainder trust with the university to provide "income and appreciation that opens the door for giving, the blessings from giving, and the multiplier effects of the gifts to students who go on to ministry in the world."
Dirk and Jean are proponents of biblical stewardship and share the belief that it is all God's money and that they simply manage it for the King. In addition to their missionary work, the couple has also supported Christian education and fundraising for many years. "The blessings you receive from giving don't make logical sense," they say, "but once you have experienced it, you will know."
The Vander Steens hope their gifts will reflect another part of their faith: the multiplier effect. "By equipping students, we can watch the Kingdom and our life's work multiply and grow," they say. "We enjoy watching the next generation, prepared with a solid Christian education, getting involved in making a difference for the Kingdom of the world."
Now retired in Hudsonville, Michigan, Dirk and Jean say the most important things they experienced as students at Calvin were the Christian foundation, the strong academics, and the lifelong friendships that continue to this day. The Vander Steens' three children-Joy, Deb, and Cheryl-are all Calvin graduates, as are three of their six grandchildren!
Dirk and Jean encourage others to consider supporting Calvin's mission and reflect on the blessings they have received by paying it forward for future generations of Calvin Knights.